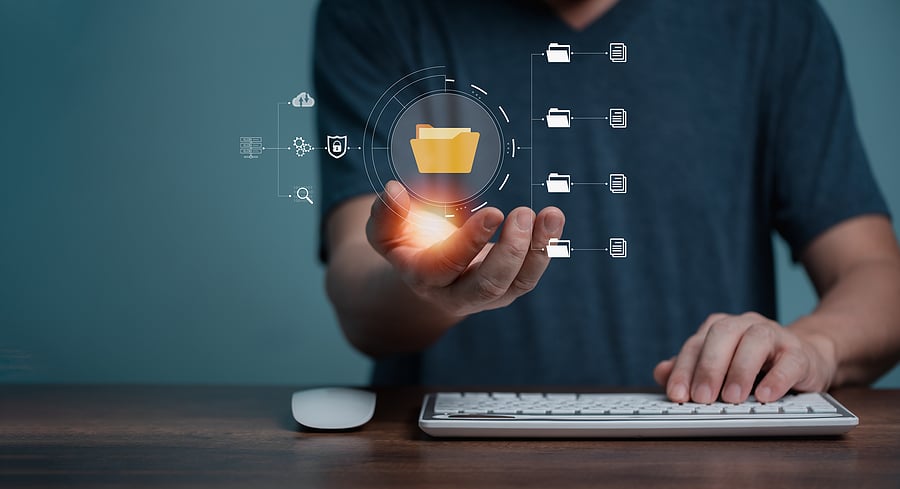 Organizations need to be able to track and manage pertinent information related to their employees, but doing so can prove difficult, even with a team of just a few members. For EMS organizations, which typically staff hundreds or even thousands of providers, a system capable of storing, sharing, and updating files is crucial.
Running a large operation can make it nearly impossible to remember everything about each employee, but organizing and automating your company's EMS staffing files will make it much easier to manage employees without being overwhelmed.
What Are EMS Staffing Files?
Employee records allow staff leaders to access and view pertinent information associated with their hires quickly. These documents provide a physical or digital record of the employee's position, hire date, and/or contract terms. They should also contain personally identifiable information that can be used to verify the individual's name and legal status, among other factors.
While that information is essential for companies to make decisions regarding pay raises, contract terminations, and ongoing negotiations, keeping track of everything can be tricky, especially in hectic environments. Today, many EMS providers are starting to organize and automate their EMS staffing files to ease some of the workloads.
Why Should EMS Staffing Files Be Organized and Automated?
Staffing files are essential for finding and retaining the best talent, and for EMS organizations, it's especially important to know who they're hiring, their skills, and how much value they can bring to the team. Failing to manage your EMS staffing files properly can have disastrous consequences, ultimately making it harder to provide aid to those in need.
Organizing and automating your EMS staffing files can improve service delivery and eliminate unnecessary costs. A well-organized system makes it easier to look up pertinent staff data and make important employment decisions, while automation improves turnaround times and reduces the number of errors.
1. Efficiency
EMS leaders need to be able to quickly find and retrieve documents, files, and other important information as soon as it becomes necessary. Every second counts for emergency services, and wasting time searching through vast amounts of information can reduce response times and make it harder to serve the public. Organizing and automating your EMS organization's staffing files makes it easier to get the information you need and get back to helping people.
Managing files and folders with a clearly defined structure makes locating or changing data easier and more efficient. An automated management system can do that as soon as the relevant files are uploaded. As such, organizations are granted quick and easy access to personnel records without having to do too much unnecessary work.
2. Accuracy
Another significant issue involved with manually inputting EMS staffing files is that it's easy to make mistakes. Having some best practices or templates can help, but people can still get things wrong. Therefore, organizations that don't want to deal with missing or inaccurate records need a service capable of assisting its users.
Well-organized systems with integrated automation can handle large workloads while maintaining accuracy, and with the proper setup, EMS leaders can eliminate much of the uncertainty from the documentation process. Automated services can help EMS organizations maintain the integrity of their records by checking and verifying inputs, offering advice, and communicating errors.
3. Training
Ongoing training and certification tracking are essential processes for EMS providers. Providers that want to ensure they maintain the best staff need ongoing training sessions and quality audits to deliver the best service possible, but keeping track of who's done what and sending reminders can be time-consuming.
Failing to train EMS providers properly can lead to errors, resource waste, and liabilities, but training everyone simultaneously can be nearly impossible. Automated messaging systems can be easily set up to ensure employees are notified and tracked when new training material is rolled out.
4. Promoting
Internal career development and hiring can be incredibly valuable to EMS organizations. Once teams are acclimated to one another, removing members or introducing new ones can create unwanted friction. Businesses can use their internal records to track progress and make notes about employee performance, but it can be difficult for large cross-departmental teams.
Promoting and hiring employees across internal teams is further simplified through automated systems, as records can be easily tracked and managed without the fear of error. Employers can use automation to take notes and receive notifications later on, allowing them to keep up with the ongoing changes in their workforce.
Leveraging Modern Technology Makes EMS More Efficient
An exemplary workforce means everything in the EMS field. Still, organizations shouldn't ignore the benefits of a well-organized file management system that leverages automation to do much of the heavy lifting. Small to mid-sized businesses can use automation to reduce overhead costs and limit the need to invest in departments outside their core operations.
There are so many things to worry about when managing staff, and records shouldn't be one of them. By creating an efficient EMS documentation system, businesses can accomplish much more with less.